Why Vapor Trails sounds like noise
The most recent Rush album,
Vapor Trails
, is a return to the intensity of
Exit Stage Left
and from a songwriting standpoint is in some ways an advance. The lyrics reflect Peart's harrowing losses of his wife and daughter since
Counterparts
and are probably his best. And Lifeson's guitars are front and center.
But it's hard for me to listen to more than a few songs in a row, and I used to think the arrangements were not transparent. Now I've learned the truth from
Rip Rowan
: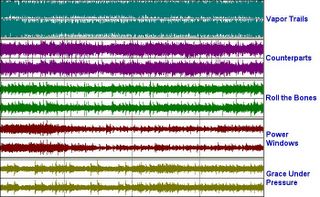 Rush album db(t)

The article is excellent - you don't have to be a Rush fan to appreciate it. In it, Rowan says that the album's sound was likely a money-driven decision made by the record label. However, I was recently told by someone who spoke to someone from the house that mastered the album that the band sent the recording out to a bunch of places and picked the sound they liked best. Something like that, anyway.
Supposedly there's talk of a more conventional mastering of
Vapor Trails
being released. In the meantime I'll have to go listen to the album again, as soon as the friend who borrowed it gives it back. Perhaps there's an artistic reason for the muddy sound and clipped drum transients. Probably I'll still think it's a great album that happens to sound awful, leaving it only near-great.